PORTFOLIO
---
This is a portfolio of some of the partnership's current work. Examples include:
---
City and Courtyard Gardens
Many of our clients are looking for an oasis for their city homes, a place in which to relax, entertain and enjoy interesting planting with the minimum of maintenance. Over the years we have created many such gardens using high quality materials, imaginative artefacts and a unique selection of plants for each and every project.
---
Large Country Gardens
The larger county garden has always been a particular passion for Lucy Huntington. There is no doubt that working on many such projects has enabled us to develop a great deal of experience in developing both formal and informal layouts and planting schemes. We are frequently able to take a completely fresh look at the garden layout and to evolve, with the owners, imaginative and practical solutions to seemingly intractable problems.
---
Family Gardens
A family, young or old will place many demands on the garden space. We always listen with great care to the needs and aspirations of all our clients and evolve designs which fulfil their brief. We are mindful of the need to work within agreed budgets and to explain the process by which the end result will be achieved. Every garden is different and the layouts reflect the owners desires, the garden might include a large play space or abundant wildlife or a collection of rare and exotic plants or organically grown vegetables or a combination of all of these.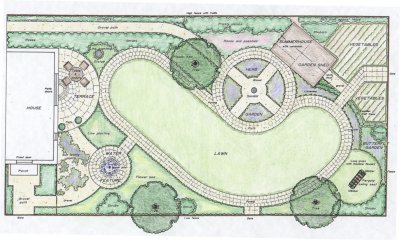 ---
Original Water Features
Over the years Lucy Huntington has created a number of fabulous water features in her clients gardens. Lakes, ponds, ornamental pools and fountains, rills, water staircases, wildlife ponds, bog gardens - we have experience in designing all of these. The specification for all water gardens and water features is of the utmost importance, rest assured that we know what is needed and have excellent contacts with the engineering experts whose input is essential for the larger schemes.
Click on images for details.
---
Detailed Planting Plans
Lucy Huntington is well known for her skill as a planting designer. Her encyclopaedic knowledge of plants, their characteristics and specific growing requirements means that her plant selections are made with all the relevant criteria in mind - and always including clients particular preferences. Garden owners, professional gardeners and landscape contractors have always found Lucy's planting plans easy to follow. The readability of planting plans is essential if the precision invested in the plan is to be translated 'on the ground'.
Click on images for details.
---
Herb Gardens
Lucy Huntington has had a life long passion for herbs, including Francis and Lucy having their own herb nursery in the early '90s. The expertise in growing and using herbs has translated into designing herb gardens of all sizes, both for private owners and for gardens open to the public.
---
Parkland and Arboretum Planting
In the UK, North America and Australia the Lucy Huntington Partnership has had the opportunity to tackle large scale plantings of parkland and arboreta. The ability to develop these schemes is firmly based on an appreciation of the long term impact of the plantings and the practical experience of having advised on the management of estates extending over a period of many years.
---
Public and Demonstration Gardens
The challenge of designing gardens at Chelsea Flower Show and Hampton Court Flower Show has taught us much about creating spectacle, drama and impact in the Show garden. This understanding of that which excites the public has been used by us in designing demonstration gardens at a number of locations in the UK and overseas.
Click on images for details.
---